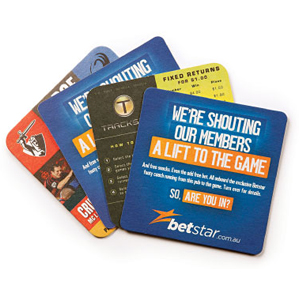 Deluxe Coaster (3mm) Rubber Sponge
QUANTITY DISCOUNTS AVAILABLE
250 +
500 +
1000 +
5000 +
10000 +

$

1.70

$

1.30

$

1.10

$

0.75

$

0.50
Price Includes four colour process printing and setup charges.
Details
Variable-data printing (VDP)
(Also known as variable-information printing (VIP) or VI) is a form of digital printing, including on-demand printing, in which elements such as text, graphics and images may be changed from one printed piece to the next, without stopping or slowing down the printing process and using information from a database or external file.
For example, a set of labels, each with the same basic layout, can be printed with a different name on each label. Variable data printing is mainly used for direct marketing, customer relationship management, advertising, invoicing and applying addressing on selfmailers, brochures or postcard campaigns.
Why choose Mad Dog for your coasters?
The sky is the limit when it comes to our custom coasters and Mad Dog Promotions is the company you can trust to deliver an effective and unique promotional tool.
Whether you want promotional drink coasters for your next big event, or you would like some for your home bar, we have the solution! From our base in Perth, we provide drink coaster delivery right across Australia in a timely, reliable fashion.
Contact Mad Dog Promotions today, and see how we can help you.